MORE POETRY @ Fazenda, 9 Harrow Place E1, a five minute walk from Liverpool Street Station.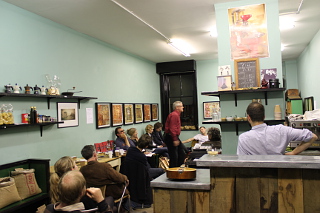 More Poetry is an intimate, friendly evening with a guest poet and open mic and began in '05. You may be a seasoned pro, a never-read-before beginner or just someone who enjoys poetry. You are welcome!
'More Poetry's setting makes it feel like a get-together in a friend's living room: it's intimate and inviting, making it a pleasure for both readers and listeners to attend. Plus, Ken Champion's welcoming and easy-going manner puts everyone at ease. Do make time for More Poetry.'

Pierre Ringwald

Here's what some of our guest poets have said about More Poetry at the old Stoney Street Café:
'A lovely, crazy, earnest night of poetry, tucked neatly in the labyrinth of Borough Market, open-armed, giddy, and sporting the classiest lectern of any poetry night anywhere.'

Guy Jackson

'More Poetry has gotta be one of the most intimate and unusual poetry readings in the capital.'

Tom Chivers

'Stoney Street Café has an atmosphere all of its own. It's small, intimate, but right in the centre of a working London and thriving market, and where better to read and hear poetry but in the heart of the city.'

Wendy French

All poems, stories, other original text and images are subject to copyright.