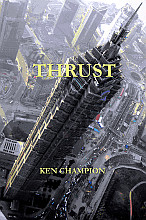 Launch of Thrust
at The Savoy Tup, 2 Savoy Street, WC2R 0BA
on Thursday 17th May. 7.0 for 7.15
Ken Champion will read a short extract from his latest novel, preceded by poets:

Wendy French Louise Warren Juli Jana

with music by MAXJAZZCATS

DO COME!
'Ken Champion's reputation was forged on the basis of his talent for exquisite miniaturism and his ability to anatomise the subtleties of close relationhips in and around his beloved London. His expansive new novel sees him confidently stride the global stage cleverly linking 3 lives... At times angry, funny, touching and tender, THRUST is a compelling read posing huge questions that demand our full attentlon.'

Hastings Independent, USA 2018
'A novel whose writing draws the reader in, its threads having an inevitable, satisfying joining into a final knot that stays long in the memory and imagination.'

Meredith Sue Willis, Books For Readers (USA), 2017
'This is Champion's best novel to date.'

Waterloo Press, 2017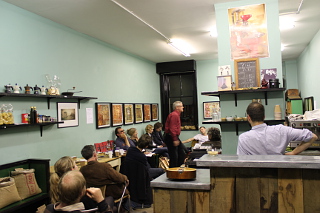 More Poetry is an intimate, friendly evening with a guest poet and open mic and began in '05. You may be a seasoned pro, a never-read-before beginner, or just someone who enjoys poetry. You are welcome!
The Coffee Shop, 13 Leyden Street, E1, a five minute walk from Liverpool Street Station. It's 7.15 for 7.30 on the second Monday of the month except August and January.
'More Poetry's setting makes it feel like a get-together in a friend's living room: it's intimate and inviting, making it a pleasure for both readers and listeners to attend. Plus, Ken Champion's welcoming and easy-going manner puts everyone at ease. Do make time for More Poetry.'

Pierre Ringwald

Here's what some of our guest poets have said about More Poetry at the old Stoney Street Café:
'A lovely, crazy, earnest night of poetry, tucked neatly in the labyrinth of Borough Market, open-armed, giddy, and sporting the classiest lectern of any poetry night anywhere.'

Guy Jackson

'More Poetry has gotta be one of the most intimate and unusual poetry readings in the capital. Held in a historic building above a café in Borough Market it's really fun, and there's good quality work.'

Tom Chivers

'Stoney Street Café has an atmosphere all of its own. It's small, intimate, but right in the centre of a working London and thriving market, and where better to read and hear poetry but in the heart of the city.'

Wendy French